| | |
| --- | --- |
| Posted on August 2, 2012 at 11:15 PM | |
Written by: Jenna Green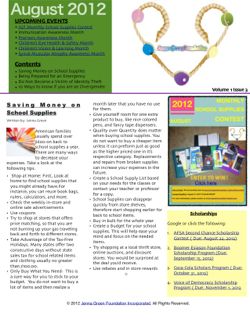 The Jenna Green Foundation's Monthly Newsletter is here. Wy don't you check it out? You will find information pertaining to:
-  Saving Money on School Supplies
-  Upcoming Scholarships
-  JGF Monthly School Supplies Contest
-  How to Avoid Idetity Theft
-  Being Prepared with an Emergency Supplies Kit.
The above topics will not only aid students with disabilities, but also their parents. If you would like to see the newsletter, please click here. If you would like to download the newsleter, please go to our documents page and click the download button.